You guys have met Neptune, so I thought I'd introduce my other herps and myself properly over here. :) Plus a few more pics of Neptune, as he just shed recently. ;)
I'm an aspiring VBB breeder, Medusa/Myth obsessed artist (the icon is from an art piece of mine), and snake fancier in general. I'm determined to specialize in and learn everything there is to know about Blue Beauties. I also hope to be at least nearly as snake savvy as my herp vet one day. Dial-up users beware, here are my scale kids!
Falkor the Miami Corn snake, named after the luck dragon in The Neverending Story. Sweet spazzy little dude who it's near impossible to get a good picture of for some reason. I really need a new camera. He was produced by Don at SMR and is growing like a weed! Great eater too, what a little piggie!




Gomez the Normal Ball Python, named after the dad of the Addams Family. (He's a little charmer that blows kisses as he winds up your arm... the name suits! Cara mia!) I hate to play favorites, but he and Ma-tsu are easily my faves of the scale-kids. He's sweet, mellow, good eater, and I call him my squishy. Total lap snake. He was produced by Jamie at glassreptiles.com, great guy! We call him Gomez's uncle. :) He also has kissing bunny rabbits in his pattern, which is awesome because we keep rabbits too... Gomez, not Jamie. He just turned one year old on this last mother's day!... again, Gomez, not Jamie. lol.




Older pics, he's got better hides now. :)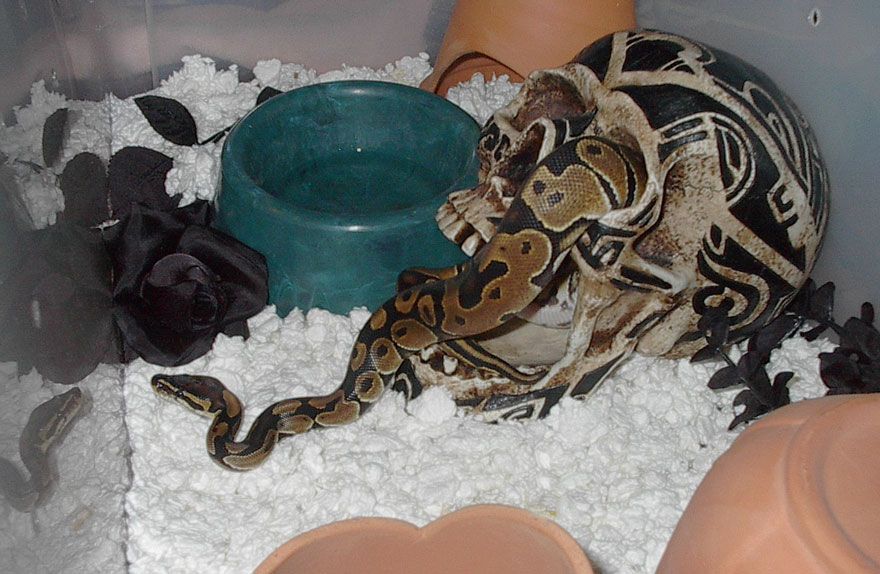 See the bunnies?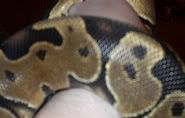 Ma-tsu the Vietnamese Blue Beauty is my girl. The Diva. I love her so much it's ridiculous. Tame as a pussy cat, gorgeous, and just oh so sweet. She's beautiful, everyone loves her, and she knows it. She actually comes up to meet my face if I lean over her tank, tongue flicking. SO sweet. Love her to bits. :)




She and I showing off the rabbit cage my fiancee built.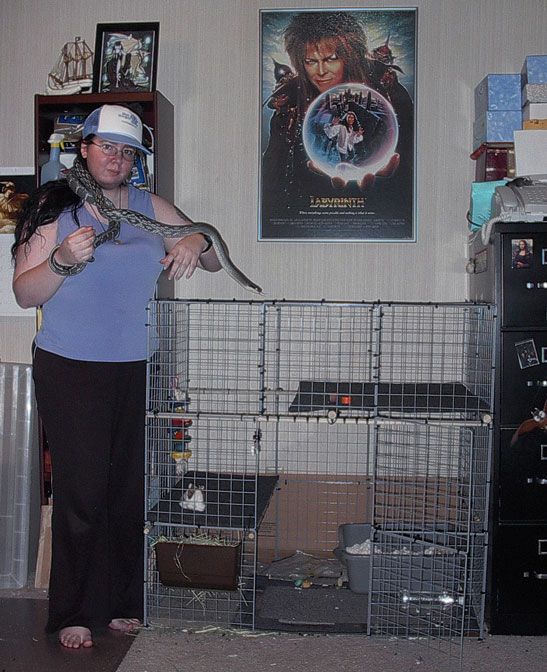 Here she is with the daughter of a friend of mine. The lighting makes her look so teal here!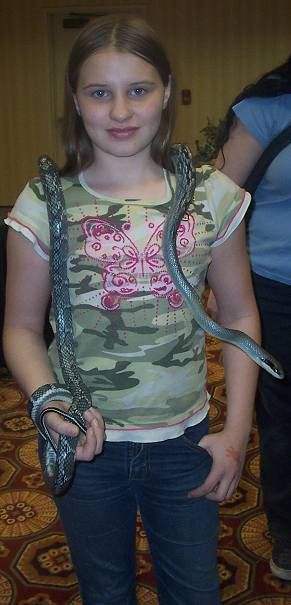 Our fiesty dragon! Here's a few of him just before he shed... actually using his humid hide for a change! We live in a very dry area (Arizona) and VBBs aren't really suited for this much dryness. So they each have a plastic humid hide with moist potting soil in it for them to relax in when they need it.




Semi-soaking in a circle.




After the shed it was dinner time! You can see the bump that was the rat here. I didn't dare take pics before it was that far down, for fear he'd get offended and change his mind. He's picky like that, lol.


Also have plans for oodles more VBBs, at *least* one more Ball Python, a black and white striped Cali King, and a dwarf boa or two like a Caulker Cay or Bluefield as well as a nice big snake room. Anything else will probably be something simply fallen in love with at an expo or something. Probably colubrids or Bps. Anywho... that's us! And thanks for looking. :)
Current Mood:
awake